Product categories: Cationic and anionic feeds to balance the buffer, stabilize the rumen pH and add essential trace minerals to grass fed animals.
This is the only product on the Vietnamese market, combined with inorganic materials and inorganic salts and micronutrients in appropriate proportions, suitable for digestion of ruminants (bovine, goat, sheep) and produced by Japanese technology. Specialized products for ruminants (especially for dairy cattle)
Ingredient production:
Ca 2 O, CaHCO 3, MgSO 4, MgCl 2 Ca, P, Na, S, Zn, Cu, Mn, Mg, Co, Se, I 2, Fe. B12, PP, A, C, D ..
None: hocmon, mold toxins, stimulants, antibiotics.
Product characteristics:
Helps to balance the cushion in ruminant rumen environment. Enhance the activity of the rumen microorganism, stimulate digestion, absorption, mineral reserves in the mother also develop the fetal end of the pregnancy by the full range of essential trace minerals Increasing the ability to produce antibodies in the first milk helps the calf healthy after birth, stimulates the lactation, and feeds the animal's appetite.
Increases the body's resistance, strengthens the smooth muscle of the uterus and muscles of the nipple of dairy cows.
Advantages of the product:
– Livestock are not close together.
– Time out early than usual 2-3 hours.
– Shorten labor time (labor)
– The recovery time of the uterus after the faster calving (clean time of dirt), cattle soon again.
– Do not get pre-and post-partum abnormalities, prevent diarrhea, Ketosis in high-yield dairy cows.
The product will fulfill all four main functions in the animal body: Maintaining the membrane structure, maintaining the physiology of the body, catalyzing the enzyme and hormone system, regulation of cell cycle .
Using
Pre-chewing and paralytic purposes before and after calving: For continuous feeding before laying 30 to 35 days and after calving for 10 days, daily 100g – 120 g (0.1 – 0.12 kg) , concentrate on the food in the day.
– For cattle that are exploiting dairy products, dry or unproductive: Feed daily with 1.0kg – 1.5kg concentrate in 150-200kg concentrate. Feeding by ration.
Methods of preservation
– Store in a cool, dry place, away from sunlight.
Note: Do not use the product when it is bleeding or turning yellow or lemon yellow.
Pledge:
The center is committed to ensuring the quality and safety of animals when used.
Produced according to contract: State-level project, 03/2006 HDDDD dated 15/4/2007 – Ministry of Science and Technology
The product was granted the digital certificate 54 / QĐ-CN-GSL- Ministry of Agriculture and Rural Development on April 13, 2009 and was granted the creative labor certificate in 2005.
The product was awarded the first Golden Rice of Vietnam in 2012.
Relate product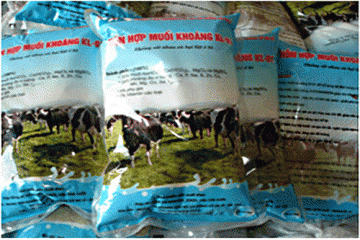 Cationic and anionic feeds are used to balance the buffer, stabilize the rumen pH, and...